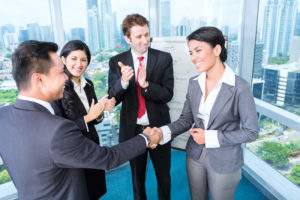 Individuals must become proactive in developing new skills and abilities to remain employable and competitive. Career development in its simplest form means employability that empowers the organization as well as the employee. Career Management and Development services and training sessions serve as building blocks on a variety of career topics. Individuals are given the tools to manage their career and acquire career success within an organization that values retention.

Career Empowerment
This workshop offers introspection, renewal and commitment for individuals experiencing burnout and/or lack of motivation. Participants assess the skills, plans, concepts and attitudes that affect their personal and professional development.
Coaching for Professional Growth
This effective and confidential service is for employees whose personal actions have impacted their professional performance. We offer individual counseling and coaching sessions that include customized reading assignments, developing an action path, and management and leadership skill building.
IDP Development: New Skills for New Options
This workshop focuses on identifying individual motivations and the challenges of balancing the needs of an employee with those of the organization. Participants learn how to construct an Individual Development Plan (IDP) that identifies curriculum options and needs as well as self-development activities and setting realistic career goals.
Interviewing with Savvy and Exiting with Finesse
This workshop focuses on the job and career transition. Participants learn that a successful interview is a matter of intimately knowing oneself and understanding the needs of the prospective employer. They develop skills in negotiating the entire transition from their resignation to starting with a new employer, which includes job responsibilities, vacation and pay.
Mentors and Protégés Relationship Building
This workshop is necessary for companies that no longer have the luxury of hiring a different person for every job description. This session gives consistency, accuracy and a common thread of information within an organization's formal and informal mentoring programs.
Net-Working to Gain Net-Worth
This workshop teaches attendees how to build networking resources. The participants' ability to build a network of unlimited resources to attain career and personal goals improves with the workshop. They receive invaluable coaching on managing the relationship with their supervisor and peers, developing supportive career circles and acquiring employable skills.
Resume Writing for Professional Appeal
A potential hiring manager will measure an individual's knowledge, skills, abilities and traits based on their resume, which is a marketing tool. Participants develop and construct a professional and polished accomplishment-based resume that generates interviews. The workshop also teaches how to read job postings, announcements and major duties to better structure a resume suiting a hiring manager's needs and ensures gaining an interview.
Retirement and Early-Retirement Options
This one-day to one-week workshop is an excellent resource for organizations interested in offering early retirement incentives. In this hands-on workshop, participants develop a budget based on projected future income, create resumes, plan their retirement roles and activities, and develop a blue print of their future.
Understanding Organizations: Playing by the Un-written Rules
Participants take a poignant look at acceptable norms, values and mores that are unwritten in many organizations. They explore various factors that prevent people from truly succeeding, and how to recognize the games played in an organization.