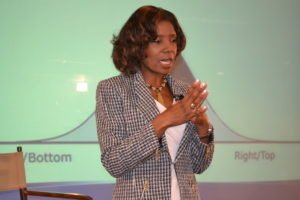 Playing by the Unwritten Rules: It's not whether you will or will not, but whether you will be successful in playing the game. This presentation is both educational and entertaining thus 'edutaining'. The audience steps into Dr. Indigo's world and walks away with an understanding on how to develop and manage their career for sustainable success leaving feeling empowered with a renewed sense of purpose and direction. She explores various factors that prevent people from attaining true success, and she serves as GPS with strategies and solutions for the many turns in life. With the workforce challenges ranging from an undereducated labor pool to a limited number of available talent for current and future jobs, there are some hard realities that must be resolved. From the Marine Corps to the Board Rooms she discloses what many are unable or unwilling to write or talk about, which limits individuals' promotability. Participants take a poignant look at acceptable norms, values and rules that are unwritten in many organizations. She gives her audience lenses to recognize 'the game' that is played in an organization with practical down to earth strategies that can be applied immediately. This workshop levels the playing field for success. Based on Dr. Indigo's book series audiences are enlightened and empowered to:
Retool and reinvent themselves for progressive success
Move from the middle to the top
Play the game with savvy and finesse with a strategy
Be courageous in setting their bar higher and achieving their passion
"The illiterate of the 21st Century will not be those who cannot read and write, but those who cannot learn, unlearn and relearn."
In addition, actual chapters from her book series are requested as stand-alone keynotes such as:
Being the Best of the Best
Career Momentum with C.A.R.S. (Colleagues, Advocates, Resources and Supporters)
Thinking that Through
From Diversity to Inclusion
Great Leadership is Not an Accident
Success in warfare, chess, politics, sport, or business, and the success of individuals and organizations is seldom the outcome of a purely random process. No matter what the game, success is usually planned for and expected. In the same light it is crucial for success-oriented professionals to develop and manage their leadership journey with a career strategy and an expectation of positive results.
During this intimate and interactive session with renowned speaker, author and career success expert, Dr. Indigo, you will explore the "how to" of navigating the high seas of organizations and managing your career path as a career strategy. Integrating technology and the strategies she shares in her book series Playing by the Unwritten Rules, Dr. Indigo polls the audience about critical leadership issues, forces them to assess where they are in their own careers and forces them to take a look at how their strategy – or lack of one – has affected their career movement. Using this live feedback she creates an understanding and facilitates a customized pathway to strategically manage and develop a career that moves forward with purpose. You'll walk away with a clear sense of who you are, what is important to you, your own leadership assets and how you can best contribute at work and to your legacy. Dr. Indigo will help you discover a process, a path and a career strategy for winning the game.
Participants will walk away armed with strategies for:
Dealing with the pressures of being successful beyond your family and peers
Creating a winning team by 'Being the Best of the Best'
Developing a 'legacy' for sustainable success
Playing by the Unwritten Rules without selling your soul