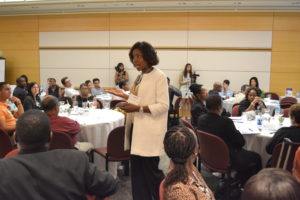 A Career Strategy to Play the Game
Success in warfare, chess, politics, sport, or business, and the success of individuals and organizations is seldom the outcome of a purely random process. No matter what the game, success is usually planned for and expected. In the same light it is crucial for success-oriented professionals to develop and manage their career with a strategy and an expectation of positive results.
During this intimate and interactive session with speaker, author and career success expert, Dr. Indigo, you will explore the "how to" of navigating the high seas of organizations and managing your career path as a career strategy.
Integrating personal knowledge and professional strategies she shares in her book series "Playing By The Unwritten Rules," Dr. Indigo encourages participants to assess where they are in their own careers and empowers them to take a look at how their strategy – or lack of one – has affected their career movement. Using this live feedback she creates an understanding and facilitates a customized pathway to strategically manage and develop a career that moves forward with purpose. You'll walk away with a clear sense of who you are, what is important to you, your own professional assets and how you can best contribute at work and to your legacy. Dr. Indigo will help you discover a process, a path and a career strategy for winning the game.
Participants will walk away armed with strategies for:
Dealing with the pressures of being successful beyond your family and peers
Moving from the middle to the top based on the bell curve theory
Creating a winning team by 'Being the Best of the Best'
How to Play by the Unwritten Rules without selling your soul
Being the Best of the Best
In today's global economy and competitive landscape, doing your job isn't enough. You need to be the best of the best in whatever you do. Being the best of the best requires knowing where you stand, or rather how you rank against others on the bell curve, and developing knowledge, skills, abilities and personal characteristics that support the organization's mission and leadership's vision. This is an interactive session that utilizes Turning Point Technologies. Each participant is given a remote and throughout the session they are given an opportunity to weigh in on key topics via a cutting edge polling system.
Career Momentum with C.A.R.S.
Improving performance and increasing productivity is achieved based on the team you build around yourself. It should be Colleagues, Advocates, Resources and Supporters (C.A.R.S.™). These are the people you bring within your circle to develop professional relationships that are purpose driven.
From a Job Defense to a Career Offense
This session looks at what really keeps many professionals from being at the top even when they are great employees. There are several sessions dedicated to important competencies that professionals must possess to move to the top, but there are numerous factors that come into play that a professional needs to know.
Resilience: Maintaining Momentum
We will share with the participants how organizations have moved from Intellectual Quotient (IQ) to Emotional Quotient (EQ) and are now entering a phase wherein Resilient Quotient (RQ) is critical for a professional's success. It is important for professionals to be resilient. Employees must be able to handle disappointments, failures, mistakes, etc., coupled with EQ to bounce back and move forward.
The Impact of First-Generational Successes
The majority of Americans, in general, are first-generational successes in one form or another simply because today's Americans have acquired so much more than any previous generation. And, unfortunately such employees are unaware that they are first-generational successes and/or what the ramifications of being such have on their career. It is important that employees understand why they are often in the middle to begin their process to the top and it is equally important for managers to manage to this dimension of diversity.
Thinking That Through (TTT)
It is surprising that performance evaluations don't have a section that deals with an employee's ability to think. So much of an organization's success hinges on leadership's and management's ability to think and be visionaries. Organizations need people who can quickly develop solutions to recurring and new problems impacting the workplace performance and productivity. But, how can we do that when people, in general, are not good thinkers or don't value the importance of thinking?