Indigo has written a book series titled, Playing by the Unwritten Rules. Her books are purchased on Amazon and directly by clients such as NASA, Office of Personnel Management, Federal Bureau of Investigation, Census Bureau and many mores. Her books are considered Intellectual Property and are purchased in quantities as small as one book order to 1,000 books ordered at one time by clients. She speaks on the subject of career success based on the unwritten rules that she will introduce to organizations in Asia. She was invited to speak to HR Managers in Beijing, in 2012 and then invited to Shanghai by the University of Hong Kong to speak to their alumni and HR students.
Dr. Indigo Tripplett's Books
To place an order, email Indigo@4dperformance.org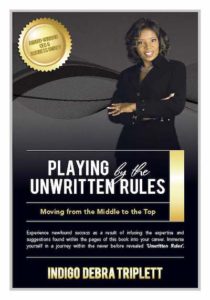 This book is truly a GPS to career success through career management. You will learn how to create a road map to your desired position, job or passion. This book examines how an individual can acquire and achieve success by having a goal that is based on his/her knowledge, skills and abilities, as well as personal characteristics. Many professionals are unable to have access to individuals who can navigate the corporate terrain, teach them the ropes, provide sage advice and serve as advocates. In addition, there are numerousprofessionals who simply are unable to succeed based on the unleveled playing field in organizations.
Ordinarily, it is relatively easy to find a job, but far more difficult to maintain and succeed in a career. This book helps readers discover what the middle is and why they are there, find their passion, manage their own career, and play the game by the unwritten rules. You will explore who you are as a professional and how to get more of what you want as a top performer. This book provides suggestions and guidance to professionals who are unable to attain true career success despite their genuine efforts and reveals what the insiders understand about the unwritten rules of business that few are privy to knowing.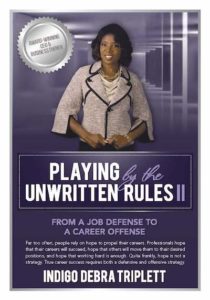 The preponderance of the workforce has attained positions, status and responsibilities that far exceed that of their parents or any previous generation making a great majority of Americans first-generational successes. Therefor unwritten rules and how to play the game often elude them. In fact, many will opt to not play the game and that is a choice. However, it is not a viable choice considering the game is being played with or without acknowledgement or consent. And, until you are ready to play the game all the training, networking events, coaching, etc. will not matter. In essence, this book is for anyone who wants to move the chain and win on the job and succeed in their career. 
Many first-generational successes hope that their career will succeed, hope that others will move them to their desired position, as if they are a chess piece, and hope that working hard is enough. But, none of these are enough, and quite frankly… hope is not a strategy. There are two strategies used in being a success: defense and offense. This book will give you an understanding of the unwritten rules, which is a great defense, while exposing you to tools and techniques for playing the game offensively. Far too often, professionals are busy defending their position, thoughts, words, image, ideas, etc. Let's turn that around from being a defense to being an offensive player. Now, more than ever before, there is a great need for you to be clear on what you want from your career, have a plan, and playthe game while playing your game, as well.